Danish Open Masters 2019 (ENG)
Danish Open Masters 2019 (ENG)
04/03/2019
#hvidovream #danishopenmasters
Danish Open Master 16-18th August 2019
We create history!
For the first time ever, a National Championship for master athletes vil open up for master athletes not member of a club under the national federation, Danish Athletics Federation. The yearly Generel Assembly decided in 2018, that we have to open more up towards the rest of the world, both national and international. That means that ordinary people are welcome to take part in our national Championships without beeing a member of a local athletics club. More precise guidelines will be announced later on.
For the first time ever, we will also be sending out invitations to foreign master federations, and invite them and their master athletes to participate in this years edition of our National Championships.We have to point out, that foreign master athletes will not be able to win any championship medals.
As local organizing comittée we are looking forward to be firstmover on this field, and are looking forward to welcome a melting pot of familiary faces from the Danish clubs, new people form outside the athletics family and our many foreign friends from all around the world to Hvidovre in the southern part of Copenhagen.
This site will continously be updated med news and all necessay information, so please share this site with your friends and come by occasionally.
---
NEWS !
25th March: At the World Masters Indoor in Tórun (POL), we will do some advertising for the Danish Open Masters and hope many European Masters will come to Copenhagen as part of their preparation for the European Master Championships in Venice (ITA). At strategic places you will find this invitation. Please forward both the invitation and the QR-code to your master colleagues and friends. Let's make it a Masters Party!
7th March: Contract has been signet between Danish Athletic Federation and the LOC, Hvidovre Athletic Club regarding this years edition of the Danish Master Championships on the 16-18th August, where 10.000m will be the only event on Friday evening.
7th March: As a part of the contract, the LOC has to open up the Championship for athletes not already members of an Athletics Club in Denmark and our foreign masters network.That is why this years edition is called Danish Open Masters 2019.
---
CHAMPIONSHIPS INFORMATIONS
Accomodation
Entry Form (Excel) - MANDATORY, no other entry will be accepted! - Entry deadline 2th August
Practical informations
Finale Timeschedule
Participants Lists
Results
---
DO YOU NEED ADDITIONAL INFORMATION?
Do not hesitate to contact:
Hvidovre Atletik & Motion
Michael Bruun Jepsen, primarily on mail sportschef@hvidovre-atletik.dk, mobile +45 2729 2519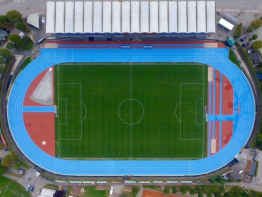 Kontaktpersoner